Labor set to complete a remarkable recovery after 2012 wipeout as Thuringowa and Townsville are declared in the party's favour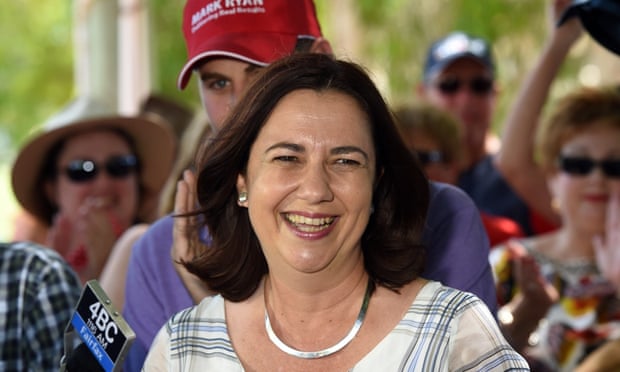 Queensland premier in waiting Annastacia Palaszczuk.
Annastacia Palaszczuk
will take power in Queensland after the electoral commission declared enough seats for the party to form a parliamentary majority with the independent Peter Wellington.
Palaszczuk emerged as premier elect after nearly two weeks of electoral uncertainty amid a close contest punctuated by a legal dispute over a disqualified candidate and the
Liberal National party
claim it should retain caretaker government for perhaps months.
Confirmation that Labor had the numbers to govern in the state's 89-seat parliament came when the commission declared the north
Queensland
seats of Thuringowa and Townsville in its favour on Friday afternoon.
That gave Labor 44 seats to the LNP's confirmed 42 in a huge swing away from the Newman government, deposed less than three years after the greatest electoral landslide in Australian political history.
Key to Labor's unexpected victory were preferences from Greens and other minor party candidates, which had punished the former Bligh Labor government in 2012.
Among the close results was Pauline Hanson's 184-vote loss to the LNP's Ian Rickuss in Lockyer. The electoral commission has rejected Hanson's request for a recount.
Labor's 44 seats include Ferny Grove, a result the LNP may choose to dispute because of the role of a Palmer United party (PUP) candidate later disqualified because bankruptcy affected the result.
However, in a clear blow to the LNP's hopes of clinging to power, the commission said on Friday it would not refer the Ferny Grove result to the court of disputed returns.
It reversed its earlier decision to lodge a court petition after receiving "additional expert legal advice", the commission said in a statement.
This was in "regard to the final count in Ferny Grove, the winning margin, the number of votes for the PUP candidate and the distribution of preferences", it said.
It followed revelations that the LNP could have secured at most another 353 votes in the PUP candidate's absence, less than Labor's winning margin of 466 votes.
The LNP's hopes of regaining office hinged on the court ordering a fresh election in Ferny Grove which they would then have to win while securing the support of the two Katter's Australian party MPs, who are yet to commit.
Palaszczuk and LNP leader Lawrence Springborg visited Queensland governor Paul De Jersey after the result was declared on Friday.
Palaszczuk told reporters: "This afternoon, the governor has invited me to form government. I have accepted that offer.
"It is an extremely humbling experience and tomorrow the interim ministry will be sworn in here at government house."
The incoming Labor government avoided big-ticket promises as part of its campaign pitch, which hinged on retaining assets to slowly pay down government debt, modest spending programs and incremental savings.
Its first months, if not years, in office will be focussed on winding back LNP changes to governance and pitching itself as a consensus government rather than one that divides.